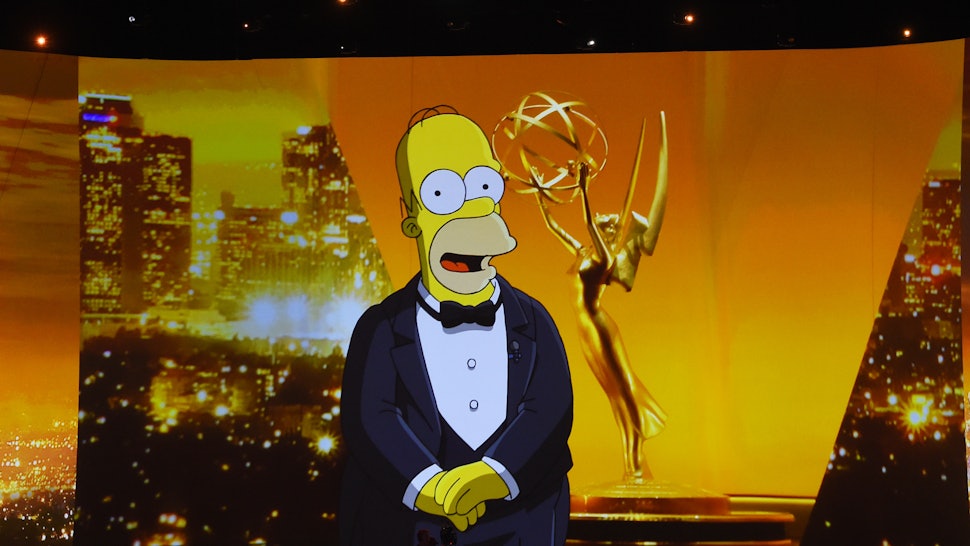 The Emmys followed the Oscars' lead by going host-less for 2019. That meant it was left to the 2019 Emmys opening number to really set the tone for the night. But fitting with its unconventional approach of having no host, the Emmys didn't have a traditional opening number either. Homer Simpson was the first to step on stage… before he fell through it. The bumbling patriarch of The Simpsons was announced as the host of the Fox-broadcasted awards show. And while some celebs in the audience looked amused, everyone else was a bit confused — even after Anthony Anderson came to the rescue.
Homer Simpson's dream of hosting the Emmys came to a halt when a piano literally came crashing down on him. From the crowd, Anderson had the reaction we were all thinking: "What the hell was that?" But he was apparently in on the joke and stepped in to "save the Emmys." With some help from his mom Doris (who placed a few Emmys in her purse for later) and Mindy Project alum Ike Barinholtz, Anderson enlisted four-time Emmy winner Bryan Cranston to get the show going.
With Homer out of the picture, Cranston traced the history of TV from Neil Armstrong's moon landing to Game of Thrones, Stranger Things, Bachelor in Paradise, Modern Family, and This Is Us before a montage of the biggest shows of 2019 aired. So while an opening number is usually a fun and musical way to recognize many of the nominees, Anderson, Cranston, and yes, even Homer's mini-intro was kept short to leave the Emmys with more time to honor the biggest shows of the year.
Before Sunday night's show, the Emmys producers were clear that they would be switching things up for the 71st Emmy Awards, and they certainly did that with the opening bit. But that doesn't mean everyone actually comprehended what was happening. For instance, Gwyneth Paltrow had quite a relatable reaction to the high jinks.
Even people who were watching from home understood how bizarre the whole thing must have been to the people in the audience. "This must look weird live…." tweeted one viewer. Added another: "watching celebrities politely react to the absolute Black Mirror weirdness of Homer Simpson as the #emmys host made it worth sitting through that bit."
The choice to incorporate The Masked Singer contestants and wax figures into the show just further confounded people. So while the main takeaway should probably be that the Emmys just tried to murder Homer Simpson (since that piano from the ceiling didn't seem like an accident), it was all just too awkward for people to be concerned about his well-being.
It may have been a goal of Homer's to host the Emmys, but based on the reaction from the audience, don't expect him to get another chance onstage… if he recovers, that is.
["source=bustle"]